Greetings!
For the past 30+ years, my work as a clinical psychologist, researcher, author and consultant has converged on one fundamental mission:
Ensuring that today's students – our children – have not just the technological tools they need as they inherit the AI future, but the tools of our humanity – the empathy, ethics, social and emotional intelligence and DEI competencies they need to survive and thrive in our ever-changing interconnected world.
Since the 2013 publication of her award-winning book, The Big Disconnect: Protecting Childhood and Family Relationships in the Digital Age (a Wall Street Journal Best Nonfiction Book of 2013, since published in Spanish, Italian, Mandarin, and Korean), Dr. Steiner-Adair has consulted internationally to help schools, parent organizations, governmental agencies, corporations and health professionals strengthen the psychological health and wellbeing of students, and minimize the neurological, psychological and social fallout tech poses at each stage of development, pre K-12. 
Along with her work as a consultant, Catherine continues to deepen her 30+ year practice as a clinical psychologist working with individuals, couples and families. Her psychotherapy work has moved online since the pandemic.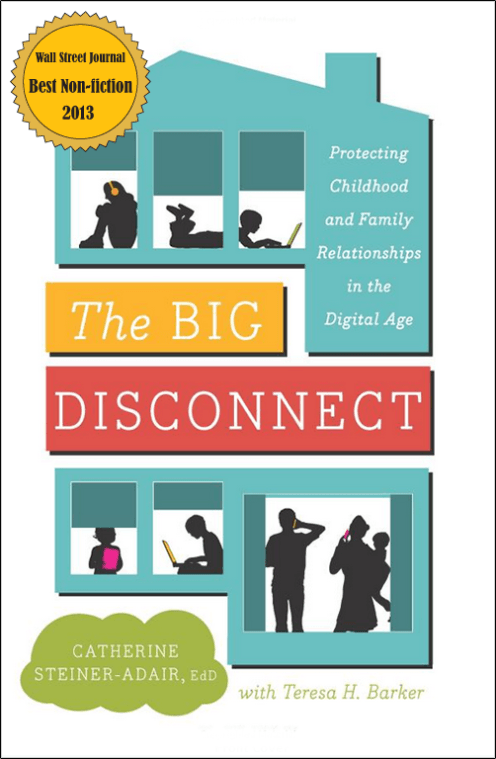 "A riveting, hugely important book that Sounds an alarm we all must hearken to if we care about our children–and ourselves.  Steiner-Adair shows how we're losing the human connections that are vital to everything that matters in family life. A great book, rooted in massive research, told in vivid, charming, unforgettable narrative, conveying a message of the utmost relevance today." (Edward M. Hallowell, MD, author of The Childhood Roots of Adult Happiness)
"In her insightful new book, Steiner-Adair reveals how technology and the Internet are fragmenting American families, leaving parents confused and children lonely.  Put down your smartphone and read this book!" (Michael Thompson, PhD, author of Raising Cain and It's a Boy)
"Every parent struggles with the benefits and limitations of a perpetually plugged-in lifestyle. Catherine Steiner Adair with great wisdom, and compassion for our confusion, helps lead us out of this technological thicket.  She is a worthy guide, not simply pointing out stumbling blocks but helping us find our way around them." (Madeline Levine, PhD, author of Teach Your Children Well and The Price of Privilege)
"I absolutely love this book. Dr. Steiner-Adair offers wonderful suggestions for dealing with issues the new tech world has brought upon us–all based on the reassuring premise that the family shapes a child's brain, mind, body and soul in unique human ways that technology can't replace." (Susan Ginsberg EdD, author of Family Wisdom: The 2000 Most Important Things Ever Said about Parenting, Children and Family Life)
"Finally, a book that answers the question parents everywhere have been struggling with: how do we raise happy, creative, caring kids in the age of screens?  Drawing on her deep professional experience, Steiner-Adair lays out exactly how technology is changing childhood and family life, and what we parents can do to make our kids' journey to adulthood healthy and human. The Big Disconnect is not just a smart book, it's a very wise one." (William Powers, author of Hamlet's Blackberry)
"Dr. Steiner-Adair has her finger on the pulse of the social and emotional challenges kids face in today's 24/7 media culture.  Take her insights to heart." (James P. Steyer, CEO and founder, Common Sense Media)
"A book that should be required reading for all parents….Steiner-Adair offers sound and sympathetic advice regarding this unprecedented 'revolution in the living room.'" (Publishers Weekly (starred review))
ARE YOU…
Stressed about summer and wondering how your family will manage?
Completely burned out from the demands placed on you as a parent in recent months?
Needing support around how to talk with children about race and the protests?
Craving practical strategies for helping your child (and your family) thrive and prepare for what's next?
WHAT IS PARENTING IN PLACE?
PARENTING IN PLACE is a limited engagement live masterclass series from a new collective of prominent thought leaders in parenting, neuroscience, education, and well-being.
After the past few months of quarantining, social distancing, and remote learning, and in an era of heightened racial strife, parents worldwide are in dire need of support.
Camps are cancelled or limited, travel is restricted, and our usual summer rituals and joys are not available — or not the same. Our children are trying to make sense of what they see in the news or in the streets in their city or town. Some children are sullen, angry, withdrawn, sad, or chaotic; others seem fine but parents worry how to stimulate their child's development and support them emotionally, while preparing for the bumps ahead and educating them about these times.
We are a group of parenting experts, therapists, authors, educators and neuroscientists who feel passionate about helping families navigate these challenging times. We've come together to share our very best strategies and ideas for how you and your family can thrive this summer and also be ready for whatever comes next.
Children and Screens During COVID-19
On Schools and Smartphones
As a school consultant, Dr. Steiner-Adair helps schools pre-K thru 12th grade strengthen their school culture and core curriculum through new programs and initiatives to support psychological wellbeing, social competence and leadership education of their students. Read More >>
Dr Steiner-Adair has been invited to present at schools and conferences throughout the United States, and in Europe, South America, Central America, the Middle East and Asia. Her audiences include students of all ages, educators and mental health professionals, non-profit organizations, industry and corporations, PTAs, YPOs and other leadership organizations, synagogues and clergy groups, camping and youth organizations, retreats and think tanks, and at organizational fundraising events.  Read More >>
Talks & Presentations
Dr. Steiner-Adair speaks on a wide range of topics, including child development and parenting, health and well being, psychological risk and resilience, social and emotional intelligence and leadership education, gender equity, media literacy, healthy relationships on and offline and best practices for technology at school and home.  Examples include… Read More >>
"Catherine Steiner-Adair gave a terrific presentation at an All School Meeting of Phillips Academy Andover. The students and faculty, more than 1,200 strong, gave her a standing ovation at the end of her talk. This reaction to her talk was especially impressive because she had challenged the students about the importance of treating one another with respect and caring. The presentation captured the attention of the students in part by reflecting back to them their own words, language that the students themselves had posted online. The language, harsh and jarring, was read out loud on stage by respected members of the student community. Dr. Steiner-Adair set these words in context, held the audience, and delivered a thoughtful message about community, character, and the challenges of life online. What she did is not at all easy to do."
"Catherine Steiner-Adair is a unique combination of brilliance and compassion. There is no one better at decoding the challenges that contemporary culture presents to the formation of a healthy childhood and a fulfilling family life – and in helping parents and kids develop the tools needed to shape a strong foundation for growing up in these times. She has become a tremendous resource for the Hathaway Brown community, and someone whose counsel we trust and treasure."
"I have never had so many faculty members register their positive responses to a consultant's presence as have come to me to speak of your visit yesterday. It seems that you've touched a place in each of us that resonates with our questions about who these children are today and how we can work with them to provide guidance in their development as self-aware and compassionate human beings. Several have commented on their appreciation that you referenced trends and pressures on not only our young children but also the older adolescent population that they encounter now and will become eventually."
By NICOLE KARLIS FEBRUARY 11, 2021 11:17PM (UTC) "In 2004, when Facebook was still known as "The Facebook," very few people could imagine that the social media platform would hold as much power and...
read more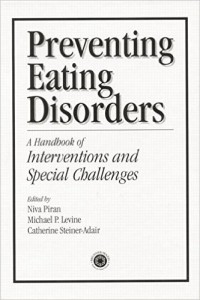 A HANDBOOK OF INTERVENTIONS AND SPECIAL CHALLENGES
-Ruth Striegel-Moore, Ph.D., Past President, Academy of Eating Disorders
"The strong connection between theory and research, the broad ranging and innovative examples of preventive intervention programs, and the specific recommendations for research and implementation, combine to make this a valuable resource for professionals and students."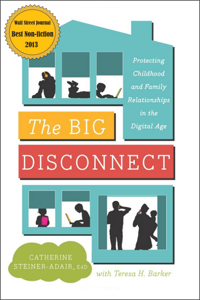 PROTECTING CHILDHOOD AND FAMILY RELATIONSHIPS IN THE DIGITAL AGE
New York Times (Dwight Garner)
"I will never forget the experience of reading Ms. Steiner-Adair's book. This is because it physically hurt to turn the pages. It was as if her palm were reaching up from the text to slap me across the face, the way Don Corleone slapped the singer Johnny Fontane in the first "Godfather" movie, telling him to be a man.
"Here's why: Before she speaks about how to pry our kids away from their phones, tablets and laptops, Ms. Steiner-Adair looks parents quite sternly in the eye…Children, she declares, 'are tired of being the 'call waiting' in their parents' lives.'
"Her summary of what to say to your kids — it's on Page 191 — is so good, so State of the Union-like, that I took a photo of it with my iPhone. "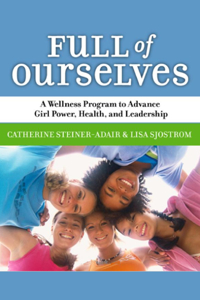 A WELLNESS PROGRAM TO ADVANCE GIRL
POWER, HEALTH, AND LEADERSHIP
Mary Pipher, author of Reviving Ophelia and Hunger Pains
"This well-reasoned, carefully researched, and creative approach to teaching girls lifelong wellness could change the world for the Ophelias of America. Its authors offer educators that most useful of gifts―practical, immediate help."